Exciting news from Kuwait as a team of media experts has submitted a comprehensive study to the central office of the newly established Upper Hand Organization, proposing the launch of a new Arabic-language satellite channel. The team has been working tirelessly to establish the new channel, which is set to bring about an Islamic media revolution and contribute to the purification of many prevailing misconceptions.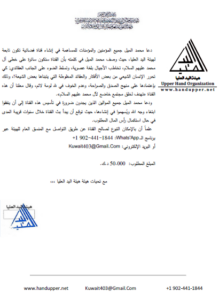 According to the team's report, the channel is expected to be launched in either London or Washington, with transmission coverage in the Middle East and North Africa region for twelve hours a day in the first phase. The team has estimated that the first phase of the project will cost around $100,000, which will be raised through a global fundraising campaign.
The channel is expected to be self-financing after the first phase, with revenue coming from advertisers and donations from benefactors. The team hopes that the channel will become an integral part of the Islamic public, with its unique style of discourse and presentation.
The proposed channel has already received support from scholars and dignitaries in Kuwait, with many expressing their excitement about the upcoming launch. The Board of Directors of the Upper Hand has also expressed its confidence in the project, stating that it represents a step into the future and will allow for the expansion of the commission's letter.
The team has not revealed the names suggested for the upcoming channel, but they have assured supporters that the channel will be in an advanced position in the frontal Islamic civilizational arena. The team believes that the upcoming launch of  the channel will be a major event that will contribute to the Islamic media landscape in a significant way.
---