As global issues continue to worsen, there is a growing need for an inspiring figure to emerge, and many believe that the Mahdi fits this role. He is not merely a prophecy but a real person who instills a deep longing in people's hearts. Belief in him provides strength to the oppressed, and his eventual victory over injustice is inevitable. To prepare for his arrival, we must take action and face challenges. Having faith in the Mahdi offers an endless source of strength for oppressed individuals and nations. Regardless of the difficulty of the task, his triumph over injustice is certain. It is crucial to prepare ourselves to receive him as if he were to appear tomorrow, so that he can deal with any situation requiring human intervention with the necessary energy and qualifications. Join our cause today and take the first step towards becoming a changemaker.
WHO WE ARE?
— The Upper Hand Organization (UHO) is a decentralized global organization and comprehensive reform movement driven by the belief in the necessity of preparing for the emergence of the Promised Imam Mahdi.
— The UHO takes its name from one of the titles of the Imam, "The Upper Hand".

MISSION & VISION
— The UHO is an Islamic organization that derives its laws and principles from Islam and focuses on the concept of jihad as a key part of its mission. In addition to this, the UHO is involved in a range of activities and operates on multiple levels, serving Muslims around the world.
— The UHO believes that the return of Imam Mahdi signifies the end of history and the fulfillment of the final chapter of the Islamic narrative. In order to bring about this salvation, the organization believes that it is necessary to focus on preparing for the promised savior through the empowerment of the people, strengthening the practice of Islam, and building a social movement to hasten the return of the awaited savior.
FLAG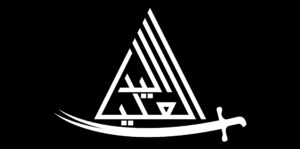 The flag of the Upper Hand displays a black hue that signifies rebellion. The emblem of the Upper Hand is situated at the center of the flag, which comprises of an equilateral triangle, denoting strength, and the sword of Zulfiqar, positioned underneath it, representing justice. The standard dimensions of the flag dictate a length twice that of its width, and it can be manufactured through the process of printing the logo in white on a black fabric.
REGIONS WHERE OUR FLAG IS WAVING
Africa ● Americas ● Asia and the Pacific ● Europe and Central Asia ● Middle East and North Africa
STATIONS OF THE PAST: A JOURNEY THROUGH HISTORY
17/10/2012: THE BEGINNING
2013: ORGANIZING AND PUBLICIZING
2016: KUWAIT BANS UPPER HAND, FOUNDER SENTENCED
2017: REESTABLISHED IN THE UK
2021: REVAMPING POLICIES & MISSION, ADOPTING NEW ADMIN STRUCTURE
GLOBAL PRESENCE: OUR FLAG WAVING WORLDWIDE!
ANTI-MODERNISM AND THE INTERNATIONAL SYSTEM
DEFENDING SHARIA, ACHIEVING ITS MESSAGE
EARTH LIBERATION: AS MANY PARTS AS POSSIBLE